Hi all,
Having been frustrated over the last month or so with inaccurate weather forecasts in the mainstream media, I decided to experiment with the MAKERbuino to see if I could create an Arduino-based weather-station that I could carry around in my pocket. I am hoping that this can give me a more up-to-date picture of the weather from where I actually would be at the time. The MAKERbuino is an ideal platform for this. It is self-contained, has it's own power supply, display and several options to connect external sensors.
I have decided to go with the Bosch BME280 3-in-one sensor for temperature, humidity and barometric pressure, available in SPI or I2C versions (or combined, in my case). They generally cost less than €5.00 here in Europe.
I have replaced the Nokia screen with a more "in-your-face" OLED display (see my other post), and the author of the appropriate Arduino OLED libraries has made a few weather display examples available on his GITHUB. These will be my starting point, together maybe with the Adafruit library for the sensor breakout. I will be using a mini (5x5) breadboard which I will attach to the MAKERbuino case, keeping everything as compact as possible (in picture below).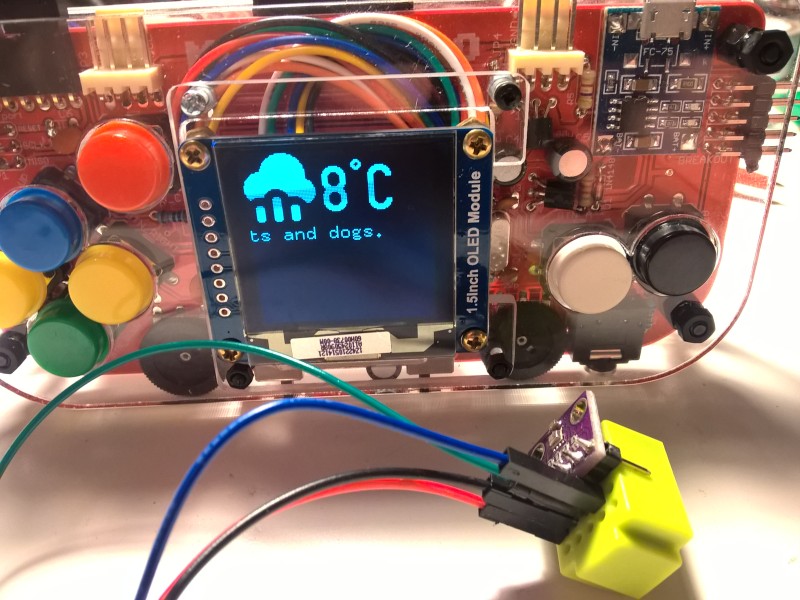 To be continued…