I'd like to show my first game made for the makerbuino


Developer: LADBSoft
Release: July 27, 2017
Genre: Platformer
Platform: Gamebuino / Makerbuino
Plot:
Port from the classic "Fire!" Game&Watch console from 1980. There is fire in a building, and people are jumping from the windows. Two people holding a stretcher are the heroes in the story, and will save as many people as possible.
Gameplay: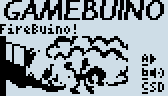 You move two people holding a stretcher, and your mission is to save as many people as possible. Every time you get a survivor to bounce on the stretcher, you get a point, and every time one reaches the ambulance, you get 10 points. One three people hit the ground, you lose. As time goes by, speed is increased, so is difficulty. Get as many points as possible.
Press LEFT or A to move left, and RIGHT or B to move right.
Special thanks:
Erico Patricio Monteiro: For the awesome new graphics
In the ZIP, you can find:
-the .HEX file. This is the game. Copy this to your SD card
-the .INF file. This is a file that contains the name, icon and slide screen of the game. It's not mandatory, but it makes the game prettier :). Copy this to your SD card too.
-the .INO file. This is the source code of the game. In case you want to take a look. Constructive critique is welcomed


-if you need an emulator, download one here.
Notes:
The game is in beta state, so expect some bugs. Also, it is very simple for what the console has to offer, but I think it's more "classic" this way

Any constructive critique is welcomed!