Hello people,
I have assembled my makerbuino and started testing games. All the games included in the SD card work without a problem. But testing a couple of specific games in the gamebuino gallery lead to an increased screen contrast and a "NO BATTERY. PLEASE TURN OFF" message.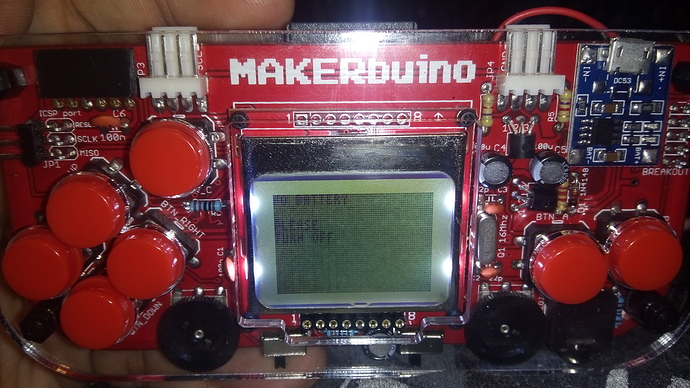 I am totally sure the battery is fully charged, since it has been charging over night. Also, I can play any other game included in the SD card without a problem for several minutes without getting that message.
The games having this problem (or at least the ones that had the problem with mine) are:
Copter Strike
Tetrino
Sokobuino
FX Synth
Others work without a problem:
Maze
Punkt
Shot Zero
Armageddon
Is there any compatibility issues with gamebuino games and makerbuino? Maybe I'm doing something wrong? Does this happen to anybody else?
Important: If you are going to try any of these games and get the message, you can exit to the menu by quickly pressing the C button after turning on the makerbuino (before the error message appears). Also, after doing so, the message "Flashing loader. Don't turn off" appears. Do not turn off (I mixed one message with the other and thought I had to turn off). Doing so bricked my makerbuino and I had to use the programmer to upload a game in order to fix it

. Be careful

Will keep researching

Have a nice day!