Hey guys,
Just posting to share my latest game Video Poker, a 5-card poker game for Gamebuino Classic and MAKERbuino. Really hope you enjoy it, any feedback is welcome.
Binaries, source, and readme available on GitHub:
https://github.com/delpozzo/videopoker-gamebuino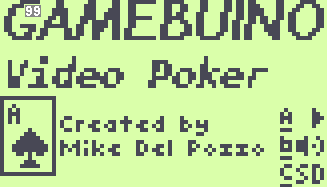 During the bet round, use Up or Down to increase or decrease your bet. The minimum bet is $5 and the maximum is $100. Press B to deal the cards. Select cards using Left or Right. Press A to toggle Hold on the selected card. Press B to exchange unheld cards for new ones from the deck.
Winning hands and rewards are as follows:
Royal Flush: 250 x Bet
Straight Flush: 50 x Bet
Four of a Kind: 25 x Bet
Full House: 9 x Bet
Flush: 6 x Bet
Straight: 4 x Bet
Three of a Kind: 3 x Bet
Two Pair: 2 x Bet
Pair of Jacks or Better: 1 x Bet