Hey Folks!
I just wanted to share my first MAKERbuino project I'm currently working on. It's called BuinoControl.
Maybe I'll change the name, maybe not

What is BuinoControl?
BuinoControl isn't a game - it's an "App". It consists of two Apps to be exact:
At first there is a MAKERBuino App and then there is an Application for Windows-PCs written in C#.
What does BuinoControl do?
The Windows-Appication uses the OpenHardwareMonitor-library to read the sensors of the PC. It then converts the sensor values into bytes and sends them to the MAKERbuino via RS232-to-USB-Converter. The MAKERbuino then visualizes the received data. You can use a menu to select the different hardware-components. You can get the data from CPU, RAM and (Ati/AMD)GPU sensors at the moment.
I'm using the PCF8574 remote I/O expander board that came with the inventor's kit to drive a couple of LEDs indicating the load of the currently selected hardware.

Thanks for coming up with that idea, @albertgajsak

All of this is at an early stage of development. There are a couple of other things i want to realize but I'm still focused on the foundation of the software. I thought about releasing the sourcecode in the near future, anyone interested? Of course I want to clean it up and comment both sourcecodes before releasing it.
Pictures
Of course you want some, don't you?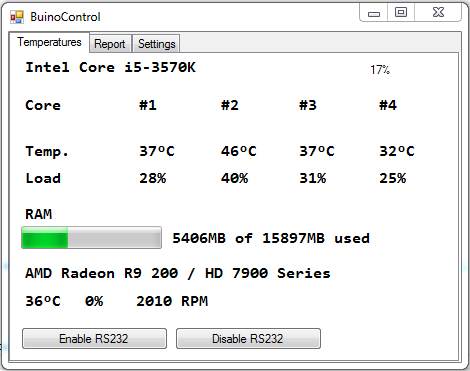 Cheers!