Hi, my son successfully built last weekend Ringo, it is up and running. He really liked it and we planned to move this weekend one step further and start with the programming. However, I am not able to start the CircuitBlocks after installation. I am getting following error: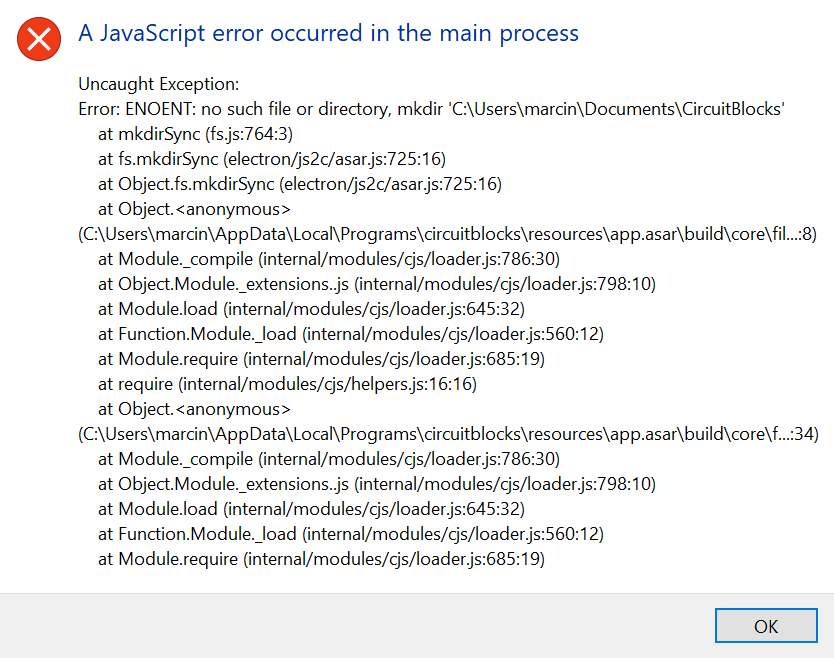 I tried with three different computers with Windows 10, and it always fails in the same way. This is the only program that I have problems with. I even created manually the directory that it is complaining about ("CircuitBlocks" in user's Documents directory), but it does not help. The only idea I have is that CircuitBlocks has some strange hard-coded file locations which do not work with folder redirection in active directory environment. It is possible? I know that active directory is not that common in home network, but I have it here and everything works, except for CuircuitBlocks.
I tried all windows versions which are available at github but all fail.
By the way, as my main desktop computer is running Linux (Fedora 31) I tried the Linux Appimage as well, but it does not work either. Yeah know that you list Ubuntu as a requirement, but this not what Appimages are meant for. It is clearly not: "Linux apps that run anywhere" as you can read on the Appimage web page. CuircuitBlocks AppImage asks for (sudo) password to run /bin/bash with root rights and then it is looks for some non-existing group… It is quite frightening to be honest…
I would appreciate if someone could look into this issue and help me, because we are now stuck in the middle of the project. Thanks in advance!