Hi!
I assembled the MakerBuino console. It passed the first test.
But, after that, it is not working as expected.
First, the checkup wizard did not appear. Only the blank screen.
In trying to solve the issue, the provided SD card was inserted into laptop and laptop reported that the SD card has problems and needed to be fixed. I copied the SD card to laptop, and, as found on web, to run the settings, I copied
the original LOADER.HEX, renamed the SETTINGS.HEX to LOADER.HEX and inserted SD card to MakerBuino and then the checkup wizard appeared and all the buttons checked OK.
Then I returned the original names and restored the LOADER.HEX but Maker Buino eiter loads the game list and after that can not start the selected game or in most cases the screen is blank.
I donnloaded the LOADER.HEX from your web, but that did not solve the problem.
Here is the photo of assembled MakerBuino: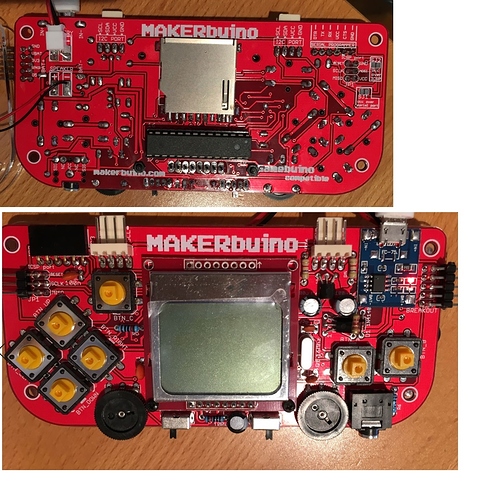 The soldering was slow, because the provided soldering iron (pluged in wall charger of 2A output) was not hot enough all the time.
Can you please help with this problem?
Kind regards,
Emil