Hi,
thank you for reaching out.
Please try (running the sketch/restoring the firmware) again so the error occurs again, then go back to the home page in CircuitBlocks, scroll to the bottom, and in the footer, you will find a "Send error report" button.
Clicking it will open a window showing all the information which will be sent, which includes the error that happened as well as some other info about your system that might help us resolve your problem.
When you click "Send report", the report will be sent to tour servers, and you will get a report ID. Please get back to us with that ID and we'll be able to assist further. Please send a report ID to contact@circuitmess.com.
Best regards,
Monika
All that shows to me is lots of data and after that mesage that i contact you with error ID
Hi,
thank you for your reply.
You should click on send report and get this ID like in the photo below:


Please try sending the report once again, and let me know if you were able to send it.
Thank you in advance,
Monika
It does not want to show me the error ID
Hi @DarioM,
thank you for your prompt reply.
I informed our programmer about your problem, and he'll get back to you with a solution as soon as possible.
Sincerely,
Monika
I was reinstalling CircuitBlocks 3 times and this poped up every time. And every time i enter circuitblocks it starts updating something and after 30 seconds everything starts behave normally.
Hi @DarioM,
thank you for your reply.
We contacted our programmer, and he'll check the CircuitBlocks and get back to you with a solution as fast as possible.
Sincerely,
Monika
Hello!
I'm pushing an update tomorrow which will fix sending error reports and let you know when it's out. I'll be able to provide further help with your issue after that.
Filip
Hey guys! The update was pushed so you can send an error report now. If you have any issues contact us at contact@circuitmess.com with your report ID and we'll help.
Filip
It doesn't work and I think it's up to my computer.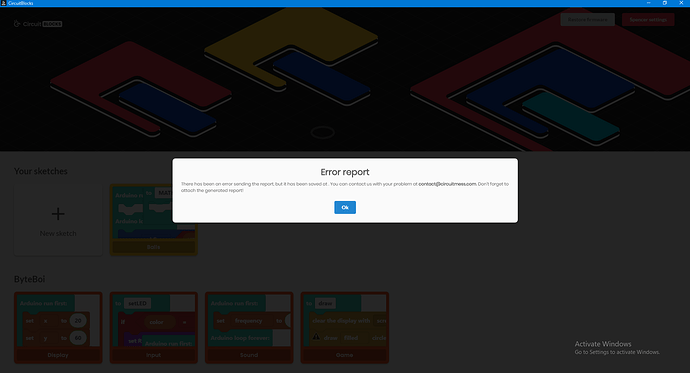 I think i have error sending an error, idk my computer is 10y old
Sorry, I seem to have missed your reply.
Make sure you've updated CircuitBlocks. It should automatically download and install the newest version when you run it. We've further modified sending error reports, and now if the sending fails you will also get presented with the full report you can copy into a text file and send to us.
Filip
Hi !
I'm trying to understand how I'm gonna install new games the community is publishing (like tetris, pacman).
Do I need to install Circuitblock ?
If yes, do you have a link to user manual to detail the way to integrate "all done" games into it ?
BTW I'm suffering trouble installing Circuitblocks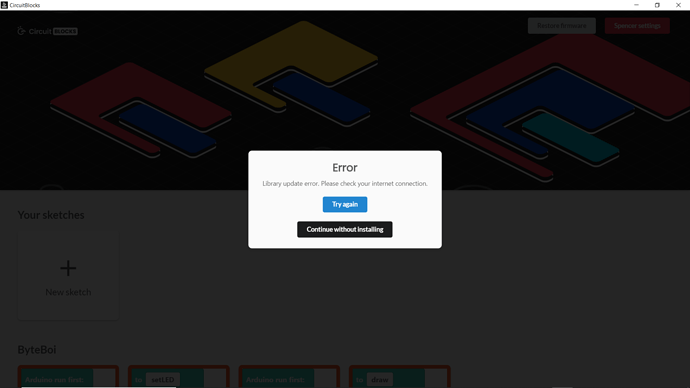 Thanks for helping me !
Yes I got the same error when I install it the first time. Then every time i enter circuitblocks i got daemon error and I dont know if gona have problems with compiling.
Thanks Dario !
I'm wondering also how I can integrate already coded games into my Nibble.
If you have an idea or tutorial, please share.
Have a nice day !
Just FYI, updating Arduino is resolving the error message.
It seems that the Arduino package coming with Circuitblock package is outdated.
Just launch Arduino app, accepting the update once the pop up message arrive.
P
Idk I'm gona send you guys data in inbox.
Can't upload my sketch due to daemon error and I tryed instaling It manually but nothing change. I can upload code to nibble with arduino ide but he does not seem to react on anything. Just blue light flashes when uploading finishes. I realy need help with It because i dont know what else can i do.
Thanks in advance.